The following is our most current detailed analysis of Dominion Power's Map and how close the routes come to our homes, properties, roads, historical places, the environment ….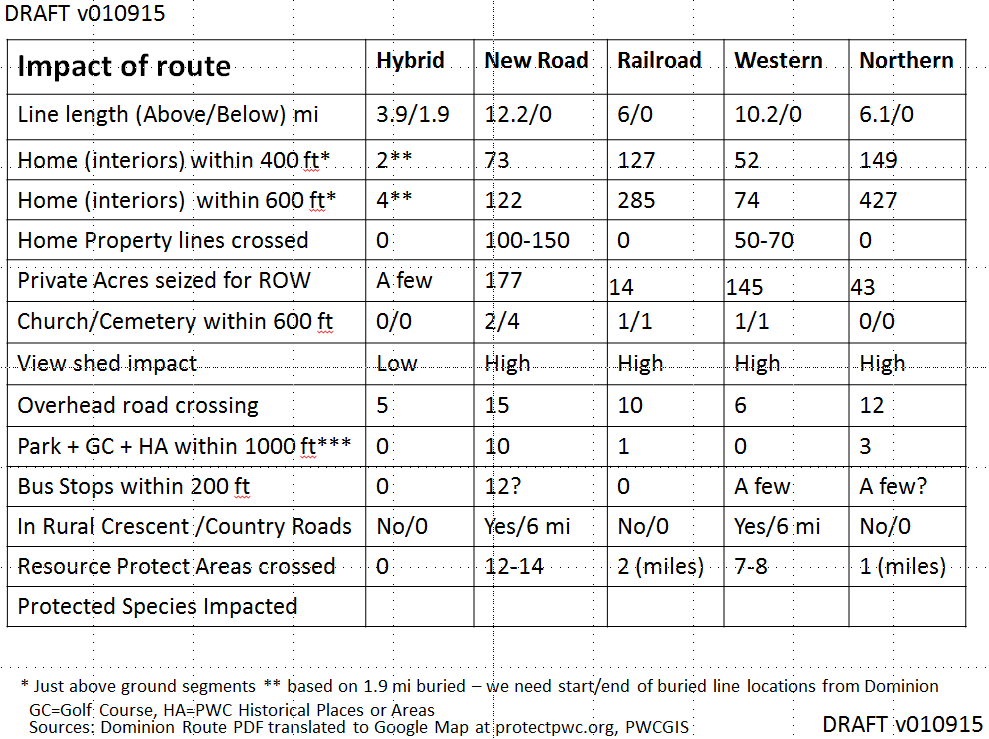 We are still working on the Protect Species Impacted.
Please note that there were 5 additional homes impacted on the hybrid route that are not included in the automated analysis of 1000+ homes that are on the detailed chart and data sheet below:
The following is based on analysis of our marked up Google map for the various proposed routes.  Note that the lower the y axis the more severe the impact.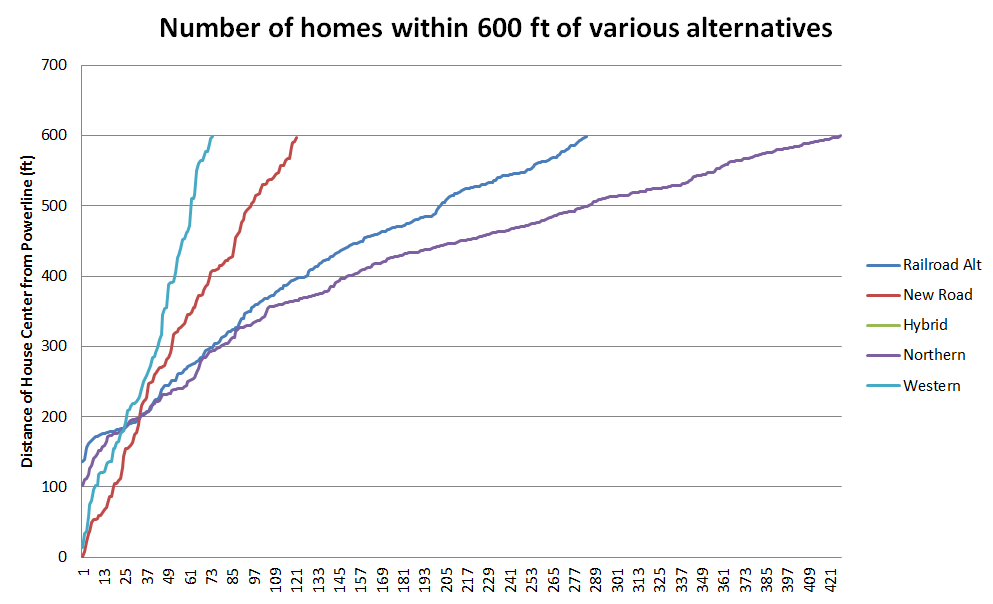 Number of homes on a route
Please note that the hybrid alternative has only one point that is close since we were assuming 1.9 miles of the line near home was buried.
Some key observations:
A buried hybrid route (with between 1.5 and 1.9 mil buried) would imapce only one home.
has only Assume that distances less that 100 ft would be 100 ft unless Dominion Plans to condemn and demolish home strictures.
200 feet is a severe impact
The New Road Alternative have the most homes that are within 200 ft of lines, although all routes except the partially buried hybrid routes have approximately the same number of impacted homes.
Please review our Google Map and data for yourself … if there are issue please leave as a comment to this page.
The data.  Read like this:  "The 1st closest center of a house to a powerline line is 137 ft away on the Railroad Alt, 1 ft away on the New Road, 287 ft on the Hybrid, 102 on the Northern and 14 ft on the Western."
| | | | | | |
| --- | --- | --- | --- | --- | --- |
| | Railroad | New Road | Hybrid | Northern | Western |
| 1 | 137 | 1 | 287 | 102 | 14 |
| 2 | 139 | 8 | | 111 | 34 |
| 3 | 156 | 23 | | 112 | 36 |
| 4 | 162 | 34 | | 118 | 59 |
| 5 | 163 | 37 | | 126 | 76 |
| 6 | 165 | 50 | | 131 | 81 |
| 7 | 169 | 53 | | 141 | 96 |
| 8 | 171 | 54 | | 143 | 101 |
| 9 | 172 | 56 | | 148 | 102 |
| 10 | 173 | 59 | | 151 | 118 |
| 11 | 175 | 59 | | 151 | 120 |
| 12 | 176 | 64 | | 158 | 121 |
| 13 | 176 | 67 | | 159 | 122 |
| 14 | 177 | 70 | | 165 | 132 |
| 15 | 177 | 76 | | 171 | 135 |
| 16 | 179 | 86 | | 173 | 136 |
| 17 | 179 | 86 | | 174 | 137 |
| 18 | 179 | 101 | | 176 | 155 |
| 19 | 179 | 104 | | 176 | 155 |
| 20 | 181 | 104 | | 177 | 163 |
| 21 | 182 | 109 | | 177 | 164 |
| 22 | 183 | 112 | | 178 | 176 |
| 23 | 183 | 127 | | 179 | 178 |
| 24 | 184 | 143 | | 181 | 181 |
| 25 | 184 | 155 | | 188 | 192 |
| 26 | 188 | 155 | | 189 | 209 |
| 27 | 190 | 158 | | 194 | 209 |
| 28 | 190 | 158 | | 194 | 214 |
| 29 | 191 | 164 | | 195 | 218 |
| 30 | 192 | 174 | | 195 | 219 |
| 31 | 193 | 178 | | 197 | 222 |
| 32 | 196 | 189 | | 198 | 225 |
| 33 | 198 | 200 | | 199 | 229 |
| 34 | 202 | 216 | | 201 | 240 |
| 35 | 204 | 222 | | 202 | 250 |
| 36 | 205 | 224 | | 206 | 255 |
| 37 | 207 | 228 | | 206 | 258 |
| 38 | 207 | 247 | | 207 | 265 |
| 39 | 210 | 248 | | 215 | 272 |
| 40 | 217 | 250 | | 217 | 284 |
| 41 | 223 | 260 | | 219 | 286 |
| 42 | 224 | 261 | | 222 | 292 |
| 43 | 224 | 266 | | 222 | 298 |
| 44 | 228 | 270 | | 224 | 310 |
| 45 | 238 | 270 | | 229 | 316 |
| 46 | 241 | 271 | | 231 | 346 |
| 47 | 244 | 273 | | 232 | 354 |
| 48 | 245 | 282 | | 232 | 355 |
| 49 | 245 | 284 | | 233 | 389 |
| 50 | 248 | 291 | | 233 | 390 |
| 51 | 251 | 298 | | 238 | 391 |
| 52 | 252 | 317 | | 239 | 393 |
| 53 | 252 | 320 | | 239 | 405 |
| 54 | 260 | 322 | | 239 | 427 |
| 55 | 261 | 326 | | 240 | 429 |
| 56 | 262 | 327 | | 241 | 439 |
| 57 | 263 | 330 | | 241 | 452 |
| 58 | 267 | 333 | | 243 | 454 |
| 59 | 268 | 341 | | 245 | 461 |
| 60 | 271 | 345 | | 250 | 463 |
| 61 | 273 | 345 | | 252 | 471 |
| 62 | 274 | 349 | | 252 | 510 |
| 63 | 275 | 355 | | 254 | 510 |
| 64 | 276 | 356 | | 256 | 516 |
| 65 | 279 | 366 | | 263 | 550 |
| 66 | 280 | 372 | | 268 | 560 |
| 67 | 284 | 373 | | 279 | 564 |
| 68 | 284 | 374 | | 282 | 565 |
| 69 | 289 | 380 | | 284 | 568 |
| 70 | 295 | 385 | | 284 | 577 |
| 71 | 295 | 388 | | 288 | 577 |
| 72 | 296 | 397 | | 292 | 589 |
| 73 | 298 | 405 | | 292 | 596 |
| 74 | 299 | 407 | | 294 | 598 |
| 75 | 304 | 408 | | 295 | |
| 76 | 304 | 410 | | 297 | |
| 77 | 305 | 411 | | 298 | |
| 78 | 306 | 415 | | 299 | |
| 79 | 313 | 415 | | 301 | |
| 80 | 315 | 418 | | 303 | |
| 81 | 316 | 422 | | 304 | |
| 82 | 320 | 423 | | 305 | |
| 83 | 321 | 425 | | 305 | |
| 84 | 322 | 427 | | 310 | |
| 85 | 323 | 427 | | 312 | |
| 86 | 323 | 445 | | 312 | |
| 87 | 327 | 454 | | 322 | |
| 88 | 327 | 458 | | 325 | |
| 89 | 333 | 464 | | 326 | |
| 90 | 339 | 476 | | 326 | |
| 91 | 340 | 480 | | 326 | |
| 92 | 347 | 489 | | 328 | |
| 93 | 348 | 494 | | 329 | |
| 94 | 349 | 496 | | 330 | |
| 95 | 349 | 499 | | 330 | |
| 96 | 355 | 503 | | 331 | |
| 97 | 356 | 506 | | 334 | |
| 98 | 359 | 515 | | 335 | |
| 99 | 360 | 516 | | 337 | |
| 100 | 363 | 518 | | 337 | |
| 101 | 363 | 524 | | 339 | |
| 102 | 365 | 530 | | 341 | |
| 103 | 368 | 531 | | 342 | |
| 104 | 368 | 531 | | 350 | |
| 105 | 369 | 535 | | 353 | |
| 106 | 371 | 537 | | 356 | |
| 107 | 372 | 537 | | 357 | |
| 108 | 373 | 540 | | 357 | |
| 109 | 377 | 545 | | 357 | |
| 110 | 378 | 545 | | 358 | |
| 111 | 380 | 548 | | 359 | |
| 112 | 382 | 557 | | 359 | |
| 113 | 383 | 557 | | 359 | |
| 114 | 386 | 558 | | 360 | |
| 115 | 387 | 564 | | 362 | |
| 116 | 388 | 568 | | 363 | |
| 117 | 390 | 568 | | 363 | |
| 118 | 393 | 585 | | 364 | |
| 119 | 394 | 590 | | 364 | |
| 120 | 394 | 591 | | 365 | |
| 121 | 397 | 597 | | 365 | |
| 122 | 397 | | | 366 | |
| 123 | 397 | | | 368 | |
| 124 | 397 | | | 368 | |
| 125 | 398 | | | 369 | |
| 126 | 399 | | | 369 | |
| 127 | 401 | | | 370 | |
| 128 | 406 | | | 371 | |
| 129 | 409 | | | 371 | |
| 130 | 409 | | | 372 | |
| 131 | 412 | | | 373 | |
| 132 | 414 | | | 373 | |
| 133 | 414 | | | 373 | |
| 134 | 418 | | | 375 | |
| 135 | 420 | | | 375 | |
| 136 | 422 | | | 377 | |
| 137 | 423 | | | 377 | |
| 138 | 423 | | | 378 | |
| 139 | 424 | | | 379 | |
| 140 | 427 | | | 385 | |
| 141 | 427 | | | 385 | |
| 142 | 429 | | | 386 | |
| 143 | 433 | | | 390 | |
| 144 | 433 | | | 393 | |
| 145 | 435 | | | 393 | |
| 146 | 436 | | | 397 | |
| 147 | 438 | | | 397 | |
| 148 | 439 | | | 397 | |
| 149 | 440 | | | 399 | |
| 150 | 441 | | | 401 | |
| 151 | 443 | | | 401 | |
| 152 | 444 | | | 401 | |
| 153 | 446 | | | 402 | |
| 154 | 446 | | | 403 | |
| 155 | 447 | | | 403 | |
| 156 | 447 | | | 404 | |
| 157 | 449 | | | 407 | |
| 158 | 449 | | | 410 | |
| 159 | 455 | | | 410 | |
| 160 | 455 | | | 411 | |
| 161 | 456 | | | 412 | |
| 162 | 456 | | | 413 | |
| 163 | 457 | | | 413 | |
| 164 | 458 | | | 417 | |
| 165 | 459 | | | 418 | |
| 166 | 459 | | | 418 | |
| 167 | 460 | | | 418 | |
| 168 | 463 | | | 418 | |
| 169 | 463 | | | 419 | |
| 170 | 464 | | | 420 | |
| 171 | 464 | | | 421 | |
| 172 | 466 | | | 425 | |
| 173 | 467 | | | 425 | |
| 174 | 468 | | | 426 | |
| 175 | 469 | | | 427 | |
| 176 | 470 | | | 427 | |
| 177 | 470 | | | 428 | |
| 178 | 470 | | | 428 | |
| 179 | 471 | | | 429 | |
| 180 | 471 | | | 430 | |
| 181 | 471 | | | 431 | |
| 182 | 471 | | | 432 | |
| 183 | 474 | | | 432 | |
| 184 | 475 | | | 433 | |
| 185 | 477 | | | 433 | |
| 186 | 477 | | | 433 | |
| 187 | 478 | | | 434 | |
| 188 | 480 | | | 434 | |
| 189 | 481 | | | 434 | |
| 190 | 483 | | | 435 | |
| 191 | 483 | | | 436 | |
| 192 | 484 | | | 436 | |
| 193 | 484 | | | 437 | |
| 194 | 484 | | | 438 | |
| 195 | 484 | | | 438 | |
| 196 | 485 | | | 438 | |
| 197 | 485 | | | 439 | |
| 198 | 488 | | | 440 | |
| 199 | 489 | | | 441 | |
| 200 | 494 | | | 441 | |
| 201 | 497 | | | 442 | |
| 202 | 500 | | | 443 | |
| 203 | 505 | | | 444 | |
| 204 | 505 | | | 445 | |
| 205 | 507 | | | 446 | |
| 206 | 511 | | | 446 | |
| 207 | 513 | | | 446 | |
| 208 | 515 | | | 446 | |
| 209 | 515 | | | 446 | |
| 210 | 517 | | | 446 | |
| 211 | 518 | | | 448 | |
| 212 | 518 | | | 449 | |
| 213 | 521 | | | 450 | |
| 214 | 522 | | | 450 | |
| 215 | 523 | | | 451 | |
| 216 | 525 | | | 451 | |
| 217 | 525 | | | 451 | |
| 218 | 525 | | | 451 | |
| 219 | 525 | | | 452 | |
| 220 | 526 | | | 454 | |
| 221 | 527 | | | 454 | |
| 222 | 527 | | | 454 | |
| 223 | 527 | | | 455 | |
| 224 | 528 | | | 456 | |
| 225 | 530 | | | 456 | |
| 226 | 530 | | | 457 | |
| 227 | 530 | | | 458 | |
| 228 | 532 | | | 459 | |
| 229 | 532 | | | 460 | |
| 230 | 533 | | | 460 | |
| 231 | 534 | | | 462 | |
| 232 | 536 | | | 462 | |
| 233 | 536 | | | 462 | |
| 234 | 540 | | | 463 | |
| 235 | 540 | | | 463 | |
| 236 | 542 | | | 464 | |
| 237 | 543 | | | 464 | |
| 238 | 543 | | | 464 | |
| 239 | 543 | | | 464 | |
| 240 | 543 | | | 465 | |
| 241 | 544 | | | 466 | |
| 242 | 544 | | | 467 | |
| 243 | 545 | | | 468 | |
| 244 | 546 | | | 469 | |
| 245 | 546 | | | 469 | |
| 246 | 547 | | | 469 | |
| 247 | 547 | | | 470 | |
| 248 | 548 | | | 471 | |
| 249 | 548 | | | 471 | |
| 250 | 548 | | | 472 | |
| 251 | 551 | | | 472 | |
| 252 | 551 | | | 473 | |
| 253 | 553 | | | 475 | |
| 254 | 556 | | | 475 | |
| 255 | 559 | | | 475 | |
| 256 | 559 | | | 476 | |
| 257 | 562 | | | 476 | |
| 258 | 562 | | | 477 | |
| 259 | 562 | | | 479 | |
| 260 | 562 | | | 479 | |
| 261 | 563 | | | 481 | |
| 262 | 564 | | | 482 | |
| 263 | 566 | | | 483 | |
| 264 | 567 | | | 483 | |
| 265 | 568 | | | 484 | |
| 266 | 568 | | | 486 | |
| 267 | 569 | | | 486 | |
| 268 | 572 | | | 488 | |
| 269 | 573 | | | 489 | |
| 270 | 577 | | | 489 | |
| 271 | 577 | | | 490 | |
| 272 | 578 | | | 490 | |
| 273 | 580 | | | 490 | |
| 274 | 582 | | | 491 | |
| 275 | 585 | | | 492 | |
| 276 | 586 | | | 492 | |
| 277 | 586 | | | 492 | |
| 278 | 587 | | | 494 | |
| 279 | 590 | | | 496 | |
| 280 | 593 | | | 496 | |
| 281 | 595 | | | 498 | |
| 282 | 595 | | | 498 | |
| 283 | 597 | | | 498 | |
| 284 | 599 | | | 499 | |
| 285 | | | | 501 | |
| 286 | | | | 502 | |
| 287 | | | | 502 | |
| 288 | | | | 506 | |
| 289 | | | | 506 | |
| 290 | | | | 507 | |
| 291 | | | | 509 | |
| 292 | | | | 510 | |
| 293 | | | | 510 | |
| 294 | | | | 510 | |
| 295 | | | | 512 | |
| 296 | | | | 512 | |
| 297 | | | | 512 | |
| 298 | | | | 513 | |
| 299 | | | | 513 | |
| 300 | | | | 513 | |
| 301 | | | | 514 | |
| 302 | | | | 514 | |
| 303 | | | | 514 | |
| 304 | | | | 515 | |
| 305 | | | | 515 | |
| 306 | | | | 515 | |
| 307 | | | | 515 | |
| 308 | | | | 516 | |
| 309 | | | | 518 | |
| 310 | | | | 518 | |
| 311 | | | | 518 | |
| 312 | | | | 519 | |
| 313 | | | | 520 | |
| 314 | | | | 520 | |
| 315 | | | | 520 | |
| 316 | | | | 520 | |
| 317 | | | | 521 | |
| 318 | | | | 523 | |
| 319 | | | | 523 | |
| 320 | | | | 523 | |
| 321 | | | | 524 | |
| 322 | | | | 524 | |
| 323 | | | | 524 | |
| 324 | | | | 525 | |
| 325 | | | | 525 | |
| 326 | | | | 525 | |
| 327 | | | | 526 | |
| 328 | | | | 526 | |
| 329 | | | | 526 | |
| 330 | | | | 527 | |
| 331 | | | | 528 | |
| 332 | | | | 528 | |
| 333 | | | | 529 | |
| 334 | | | | 529 | |
| 335 | | | | 529 | |
| 336 | | | | 529 | |
| 337 | | | | 529 | |
| 338 | | | | 532 | |
| 339 | | | | 532 | |
| 340 | | | | 533 | |
| 341 | | | | 533 | |
| 342 | | | | 536 | |
| 343 | | | | 537 | |
| 344 | | | | 541 | |
| 345 | | | | 541 | |
| 346 | | | | 543 | |
| 347 | | | | 543 | |
| 348 | | | | 544 | |
| 349 | | | | 544 | |
| 350 | | | | 544 | |
| 351 | | | | 545 | |
| 352 | | | | 547 | |
| 353 | | | | 547 | |
| 354 | | | | 548 | |
| 355 | | | | 548 | |
| 356 | | | | 549 | |
| 357 | | | | 552 | |
| 358 | | | | 553 | |
| 359 | | | | 553 | |
| 360 | | | | 556 | |
| 361 | | | | 557 | |
| 362 | | | | 558 | |
| 363 | | | | 559 | |
| 364 | | | | 562 | |
| 365 | | | | 562 | |
| 366 | | | | 563 | |
| 367 | | | | 563 | |
| 368 | | | | 564 | |
| 369 | | | | 564 | |
| 370 | | | | 565 | |
| 371 | | | | 565 | |
| 372 | | | | 567 | |
| 373 | | | | 567 | |
| 374 | | | | 567 | |
| 375 | | | | 567 | |
| 376 | | | | 568 | |
| 377 | | | | 569 | |
| 378 | | | | 570 | |
| 379 | | | | 571 | |
| 380 | | | | 572 | |
| 381 | | | | 573 | |
| 382 | | | | 573 | |
| 383 | | | | 574 | |
| 384 | | | | 575 | |
| 385 | | | | 576 | |
| 386 | | | | 576 | |
| 387 | | | | 576 | |
| 388 | | | | 576 | |
| 389 | | | | 577 | |
| 390 | | | | 578 | |
| 391 | | | | 579 | |
| 392 | | | | 580 | |
| 393 | | | | 580 | |
| 394 | | | | 581 | |
| 395 | | | | 581 | |
| 396 | | | | 581 | |
| 397 | | | | 581 | |
| 398 | | | | 582 | |
| 399 | | | | 582 | |
| 400 | | | | 583 | |
| 401 | | | | 584 | |
| 402 | | | | 584 | |
| 403 | | | | 585 | |
| 404 | | | | 586 | |
| 405 | | | | 586 | |
| 406 | | | | 589 | |
| 407 | | | | 589 | |
| 408 | | | | 589 | |
| 409 | | | | 589 | |
| 410 | | | | 589 | |
| 411 | | | | 590 | |
| 412 | | | | 591 | |
| 413 | | | | 591 | |
| 414 | | | | 592 | |
| 415 | | | | 592 | |
| 416 | | | | 592 | |
| 417 | | | | 593 | |
| 418 | | | | 594 | |
| 419 | | | | 594 | |
| 420 | | | | 595 | |
| 421 | | | | 595 | |
| 422 | | | | 597 | |
| 423 | | | | 597 | |
| 424 | | | | 597 | |
| 425 | | | | 598 | |
| 426 | | | | 599 | |
| 427 | | | | 599 | |