This 2006 report can be found at: http://jlarc.virginia.gov/reports/Rpt343.pdf.  It is over 150 pages long and contains a lot of information relevant to our struggle.
Highlites they cited include:
Technologies are available to enable electric transmission lines to be placed underground.
Except when there are very expensive right-of-way costs associated with an overhead line, an underground line is likely to be about four to ten times more expensive than an overhead line. (PPWC comment: so be it, and when it serves primarily commercial and industrial users they should pay for it … not rate payers)
The State Corporation Commission (SCC) has rarely supported the use of underground lines primarily due to concerns about costs and reliability.
The SCC and Dominion Virginia Power do seek to address aesthetic, environmental, and property value concerns associated with overhead lines, but through means other than undergrounding, such as altering routes or adjusting the type or size of towers used in an overhead line.
More transmission lines are planned in future years, and improved planning and availability of information could enhance transmission line decision-making.
One thing that caught my eye was an picture of of 230Kv lines in Virginia: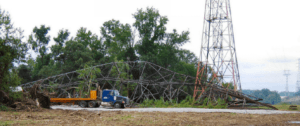 This one fell in a wind storm, but you can see the overall ugly around these lines.